After we became engaged Thom took me away for a fantastic weekend in Charleston, SC. While there we walked on the beach, collected seashells and basked in the glow of newly engaged love.
We were so enamored of our engagement rings that we took this photo with them:
Yes, we both wore engagement rings
Once we had our date nailed down and our "elegant, coastal New England" theme running through our minds we started chatting with friends about plans. Over a fantastic, red wine fueled dinner our uber-creative friend Jon offered to DIY our stationary as his wedding gift. All of it. Needless to say, I jumped at the offer. We gave him a few ideas based on our theme and a couple of weeks later we had these lovely postcards combining our photo from the beach with Jon's design skills.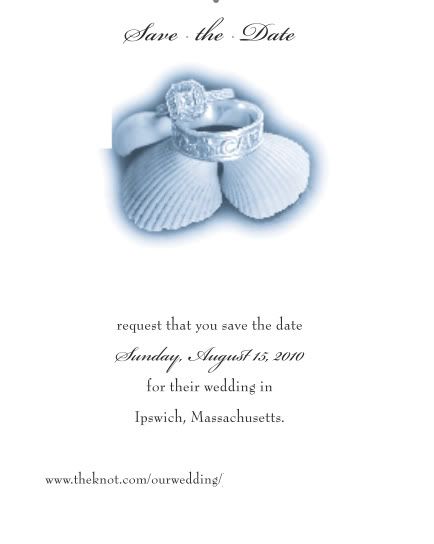 Save the Date postcard
This was only the beginning of Jon's incredible gift to us. Over the next few months Jon would send me his design WIP and I would make notes or suggestions. Eventually he produced an incredible custom design featuring a stylized hydrangea in a batik-esque band that represented Thom's eastern European roots combined with our New England wedding. Surrounding the "flower" was a rope-like effect for our coastal theme. I was blown away by Jon's work.
Meanwhile I researched printing and cardstock. We finally settled on using paper products from
Cards & Pockets
which has an incredible selection of elegant and luxe looking DIY and semi-DIY paper products.
I adore the look of pocketfold invitations. Love. Love. Love pocketfold invitations. I knew immediately we would base the invitations on the 5x7 Signature Pocketfold card in a beautiful metallic champagne shade. We used creampuff colored cardstock for the printing and accented with a lovely sky blue invitation mat and reply envelope. We also added a contrasting metallic sand colored belly band with a monogram. The monogram was the only item we had printed; everything else we printed at home. A long and tedious day was had by all printing, cutting and gluing the invites together. But in the end we had a stack of these lovlies:
Invitation minus reply envelope
As sealed in envelopes
Next up: Jon's custom design band "ties" it all together.